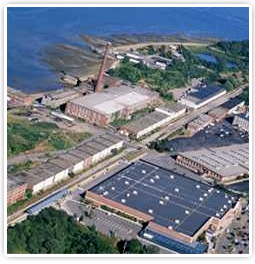 Cordage Commerce Center – Plymouth, Massachusetts
This historic 45-acre waterfront office campus, retail and residential space is in a prime location just 35 miles south of Boston, 44 miles east of Providence, and just over one mile from downtown Plymouth, Massachusetts. A Commuter Rail Station is located on site.
A waterfront office campus featuring unique mill buildings with 18' to 30' ceilings and large lighted windows offering panoramic views, Cordage Commerce Center is the hottest spot for business in this growth region, offering a reverse commute to Boston.
Investment opportunities abound in the Cordage Park Residential Development.
History
Cordage Commerce Center is located in a renovated turn of the century rope factory. The facility now features:
Unique renovated mill space
Water views
MBTA service on site
GATRA Bus Service
Only 35 miles from Boston
High speed internet access
Aggressive pricing with HVAC
Ample parking
Build-to-Suit spaces starting at 1,800 s.f.
Amenities
State-of-the-Art Fitness Center
Restaurant/Pub
Coffee Shop
Health Center
Computer Support Services
Massage & Yoga Studio
Hair Salon
54 Slip Marina
Creative, affordable lease arrangements are available at Cordage Park. Employees and business owners alike value the proximity to numerous major highways (3, 44, 495, 53, 58, and 106) as well as the short walk to the MBTA that links Plymouth conveniently to downtown Boston.
The group is in the process of permitting the development of a full lifestyle center encompassing 675 residential units for rental and condominium sales, hotels, and additional retail offerings serving the town of Plymouth and its residents. Expansion to the existing 54-slip marina is also included in this upcoming development.
Contact Information
Cordage Commerce Center
10 Cordage Park Circle
Suite 235
Plymouth MA 02360
Telephone: 508-746-7707
Facsimile: 508-746-5522